NY Immanuel Celebrates 500-Year Reformation Movement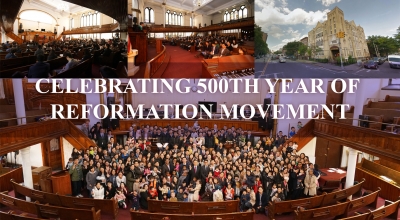 Celebrating the Reformation movement- which started exactly 500 years ago in October, 1517, NY Immanuel Church senior pastor, Dr. Paul de Vries delivered his monthly sermon on Romans 1:17, "Three Words that Renew the Gospel".

"October 1517 marked the rediscovery of the Gospel and the successful founding of the multifaceted Reformation movement. We are all the beneficiaries of the courage and faithfulness of men and women 500 years ago this month," said Dr. de Vries in the sermon.

"Probably the most influential Bible verse that reawakened the original leaders and the millions of their followers to the power and truth of the Gospel was Romans 1:17, which includes a quotation from Habakkuk 2:4: 'The righteous will live by faith.' Clearly, the three words dominate its meaning: 'righteous,' 'live,' and 'faith.'" He continued, "Even now, 500 years later in October 2017, the renewal of the Gospel in each of our lives - in our church, in our communities, in our country, and beyond - relies on our understanding and embracing the full meanings of these three words."

Dr. de Vries exhorted NY Immanuel members to hold onto the profound meaning of the faith and be established as the faithful children of God who stand upon the pure understanding of the Gospel of Jesus Christ.