The Lord is My Shepherd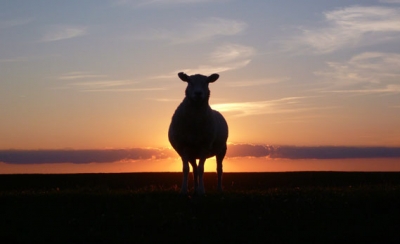 The following is an excerpt from 'The Treasury of David: Psalms 23' by Charles Haddon Spurgeon:

There is no inspired title to this psalm, and none is needed, for it records no special event, and needs no other key than that which every Christian may find in his own bosom. It is David's Heavenly Pastoral; a surpassing ode, which none of the daughters of music can excel. The clarion of war here gives place to the pipe of peace, and he who so lately bewailed the woes of the Shepherd tunefully rehearses the joys of the flock. Sitting under a spreading tree, with his flock around him, like Bunyan's shepherd boy in the Valley of Humiliation, we picture David singing this unrivalled pastoral with a heart as full of gladness as it could hold; or, if the psalm be the product of his after years, we are sure that his soul returned in contemplation to the lonely water brooks which rippled among the pastures of the wilderness, where in early days she had been wont to dwell. This is the pearl of psalms whose soft and pure radiance delights every eye; a pearl of which Helicon need not be ashamed, though Jordan claims it. Of this delightful song it may be affirmed that its piety and its poetry are equal, its sweetness and its spirituality are unsurpassed.

The position of this psalm is worthy of notice. It follows the twenty-second, which is peculiarly the Psalm of the Cross. There are no green pastures, no still waters on the other side of the twenty-second psalm. It is only after we have read, "My God, my God, why hast thou forsaken me?" that we come to "The Lord is my Shepherd." We must by experience know the value of blood shedding, and see the sword awakened against the Shepherd, before we shall be able truly to know the Sweetness of the good Shepherd's care.

It has been said that what the nightingale is among birds, that is this divine ode among the psalms, for it has sung sweetly in the ear of many a mourner in his night of weeping, and has bidden him hope for a morning of joy. I will venture to compare it also to the lark, which sings as it mounts, and mounts as it sings, until it is out of sight, and even then is not out of hearing. Note the last words of the psalmâ€""I will dwell in the house of the Lord for ever; "these are celestial notes, more fitted for the eternal mansions than for these dwelling places below the clouds. Oh that we may enter into the spirit of the psalm as we read it, and then we shall experience the days of heaven upon the earth!

EXPOSITION

Ver. 1. The Lord is my shepherd. What condescension is this, that the infinite Lord assumes towards his people the office and character of a Shepherd! It should be the subject of grateful admiration that the great God allows himself to be compared to anything which will set forth his great love and care for his own people. David had himself been a keeper of sheep, and understood both the needs of the sheep and the many cares of a shepherd. He compares himself to a creature weak, defenceless, and foolish, and he takes God to be his Provider, Preserver, Director, and, indeed, his everything. No man has a right to consider himself the Lord's sheep unless his nature has been renewed for the scriptural description of unconverted men does not picture them as sheep, but as wolves or goats. A sheep is an object of property, not a wild animal; its owner sets great store by it, and frequently it is bought with a great price. It is well to know, as certainly David did, that we belong to the Lord. There is a noble tone of confidence about this sentence. There is no "if" nor "but", nor even "I hope so"; but he says, "The Lord is my shepherd." We must cultivate the spirit of assured dependence upon our heavenly Father. The sweetest word of the whole is that monosyllable, "My." He does not say, "The Lord is the shepherd of the world at large, and leadeth forth the multitude as his flock", but "The Lord is my shepherd; "if he be a Shepherd to no one else, he is a Shepherd to me; he cares for me, watches over me, and preserves me. The words are in the present tense. Whatever be the believer's position, he is even now under the pastoral care of Jehovah.

The next words are a sort of inference from the first statementâ€"they are sententious and positiveâ€"I shall not want. I might want otherwise, but when the Lord is my Shepherd he is able to supply my needs, and he is certainly willing to do so, for his heart is full of love, and therefore "I shall not want." I shall not lack for temporal things. Does he not feed the ravens, and cause the lilies to grow? How, then, can he leave his children to starve? I shall not want for spirituals, I know that his grace will be sufficient for me. Resting in him he will say to me, "As thy day so shall thy strength be." I may not possess all that I wish for, but "I shall not want." Others, far wealthier and wiser than I, may want, but "I shall not." "The young lions do lack, and suffer hunger: but they that seek the Lord shall not want any good thing." It is not only "I do not want, "but "I shall not want." Come what may, if famine should devastate the land, or calamity destroy the city, "I shall not want." Old age with its feebleness shall not bring me any lack, and even death with its gloom shall not find me destitute. I have all things and abound; not because I have a good store of money in the bank, not because I have skill and wit with which to win my bread, but because "The Lord is my shepherd." The wicked always want, but the righteous never; a sinner's heart is far from satisfaction, but a gracious spirit dwells in the palace of content.

EXPLANATORY NOTES AND QUAINT SAYINGS

David has left no sweeter Psalm than the short twenty-third (Psalms 23:1-6). It is but a moment's opening of his soul; but, as when one, walking the winter street sees the door opened for some one to enter, and the red light streams a moment forth, and the forms of gay children are running to greet the comer, and genial music sounds, though the door shuts and leaves the night black, yet it cannot shut back again all that the eyes, the ear, the heart, and the imagination have seenâ€"so in this Psalm, though it is but a moment's opening of the soul, are emitted truths of peace and consolation that will never be absent from the world. The twenty-third Psalm is the nightingale of the Psalms. It is small, of a homely feather, singing shyly out of obscurity; but, oh! it has filled the air of the whole world with melodious joy, greater than the heart can conceive. Blessed be the day on which that Psalm was born! What would you say of a pilgrim commissioned of God to travel up and down the earth singing a strange melody, which, when one heard, caused him to forget whatever sorrows he had? And so the singing angel goes on his way through all lands, singing in the language of every nation, driving away trouble by the pulses of the air which his tongue moves with divine power. Behold just such an one! This pilgrim God has sent to speak in every language on the globe. It has charmed more griefs to rest than all the philosophy of the world. It has remanded to their dungeon more felon thoughts, more black doubts, more thieving sorrows, than there are sands on the seashore. It has comforted the noble host of the poor. It has sung courage to the army of the disappointed. It has poured balm and consolation into the heart of the sick, of captives in dungeons, of widows in their pinching griefs, of orphans in their loneliness. Dying soldiers have died easier as it was read to them; ghastly hospitals have been illuminated; it has visited the prisoner, and broken his chains, and, like Peter's angel, led him forth in imagination, and sung him back to his home again. It has made the dying Christian slave freer than his master, and consoled those whom, dying, he left behind mourning, not so much that he was gone, as because they were left behind, and could not go too. Nor is its work done. It will go singing to your children and my children, and to their children, through all the generations of time; nor will it fold its wings till the last pilgrim is safe, and time ended; and then it shall fly back to the bosom of God, whence it issued, and sound on, mingled with all those sounds of celestial joy which make heaven musical for ever. Henry Ward Beecher, in "Life Thoughts."

This Psalm may well be called David's bucolicon, or pastoral, so daintily hath he struck upon the whole string, through the whole hymn. Est Psalmis honorabilis, saith Aben-ezra; it is a noble Psalm, written and sung by David, not when he fled into the forest of Hareth (1 Samuel 22:5), as some Hebrews will have it; but when as having overcome all his enemies, and settled his kingdom, he enjoyed great peace and quiet, and had one foot, as it were, upon the battlements of heaven. The Jews at this day use for most part to repeat this Psalm after they are sat down to meat. John Trapp.

Augustine is said to have beheld, in a dream, the one hundred and nineteenth Psalm rising before him as a tree of life in the midst of the paradise of God. This twenty-third may be compared to the fairest flowers that grew around it. The former has even been likened to the sun amidst the starsâ€"surely this is like the richest of the constellations, even the Pleiades themselves! John Stoughton, in "The Songs of Christ's Flock", 1860.

Some pious souls are troubled because they cannot at all times, or often, use, in its joyous import, the language of this Psalm. Such should remember that David, though he lived long, never wrote but one twenty-third Psalm. Some of his odes do indeed express as lively a faith as this, and faith can walk in darkness. But where else do we find a whole Psalm expressive of personal confidence, joy, and triumph, from beginning to end? God's people have their seasons of darkness and their times of rejoicing. William S. Plumer.