Bringing the Glory of God to the Streets of Barcelona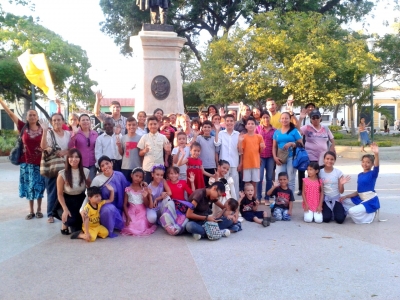 More than 50 people gathered in Plaza Boyaca in the heart of Barcelona, giving praise to God with dancing and praise, drawing many of the public to come to be exposed to God and who He is.

The Emanuel Church of Barcelona organized the event to draw the crowds in with gracious music, before preaching Romans 8 and 10, calling the crowd to confess with their mouths that Jesus is their personal Lord, and receive the gift of salvation and eternal life, which many responded positively.

Many children and adults from the congregation joined heart and hands for the event, and the work of the Holy Spirit was apparent as many came to be touched by the Word of God that was shared.

The work of God extended to even the friends and family of the church members who have not yet accepted Jesus, many of them confessed that they took another set closer to getting to know God through the event.

Barcelona with more than 50% of its population being atheistic, is indeed a mission field that is awaiting sowing, plowing and harvest. Emanuel church members will continue to be knee deep in the work of proclaiming the gospel to those who are waiting.