Jubilee and Elim Korea Plan Major Praise & Prayer Event, Bring Healing to "Comfort My people "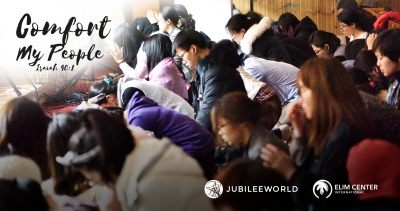 Jubilee World and Elim Center Korea are planning a major praise & prayer gathering on the theme of healing, spiritual revival, and repentance. The two ministries will unite to prepare this gathering and are inviting across the nation all who have wounded or weary hearts.

Yoojung Shin, Elim Korea director, shared her hope for the upcoming event, "Whoever is dejected or worn out, I wish the meeting would bring hope for them."

"I believe there will be a great movement of the Holy Spirit through this praise gathering. We will prepare for the event with sincerity and earnestness," she added.

Jubilee Korea's representative, Pastor Hosea Yang, shared, "I am truly thankful to God for this opportunity that allows Jubilee to serve and bring healing to others. I hope our music may remind those who join to rely on God's perfect power and love that they could receive healing and strength in their daily walk."